New VPS on a VPS on a VPS on an Elephant Hosting
Attention All HostBluff Customers,
As many of you have noticed, we have officially launched our new VPS Hosting Plans. I would like to take a minute to explain how we are continuing to innovate rather then using an existing and stable platform.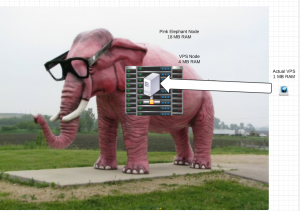 Our first layer of virtualization is a giant but smart looking pink elephant. This was wired with the latest Intel Pentium 1 Processor and a whole 18 MB of RAM.
Inside of this, we have our primary VPS Node, this node is a recommissioned civil war super computer.
Inside of this, we have our main VPS Server, we are running a whole  2 MB of RAM on this beast
Finally, we have our VPS containers.
Our innovative VPS Hosting solution provides us with the best in instability and overhead, while dealing lackluster performance. We have also integrated our pink elephant with our Floppy Disk RAID 0 storage system.